Now THAT was a market drop
A historic day for the stock market
Wow.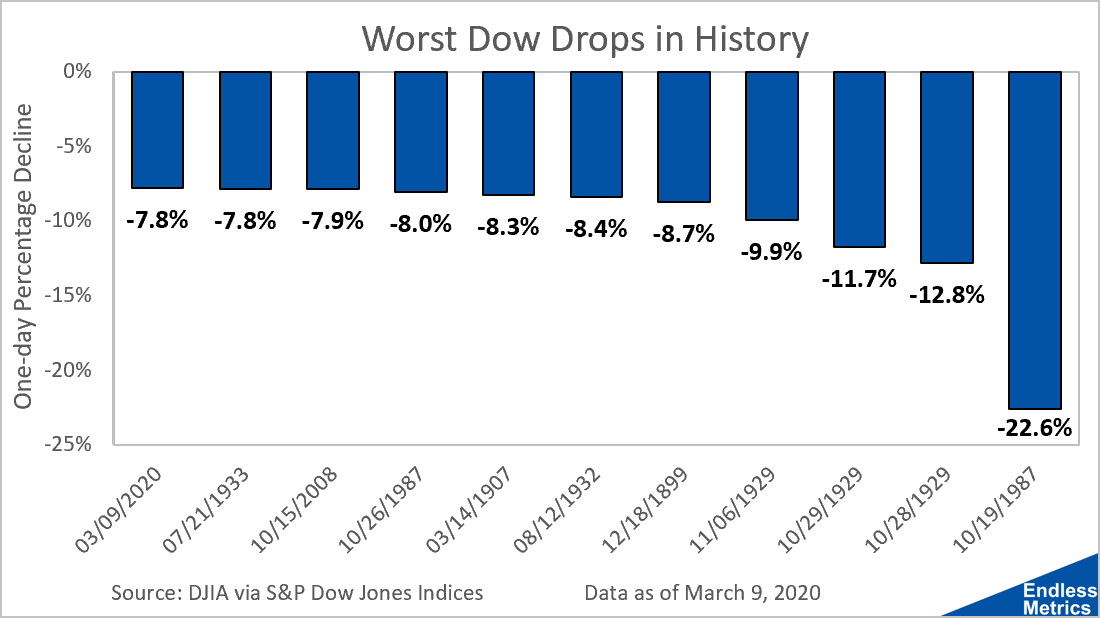 Since 1896, there have only been ten days in the history of the Dow Jones Industrial Average that saw greater losses.
Let me say that again. We just witnessed something so bad, that out of all the trading days in the last 124 years, only ten days were worse.
Think about all that history - the Financial Crisis, the Dot-com Bubble, Black Monday, The Great Depression, Black Tuesday, The Panic of 1907, some random Monday in December 1899 that I can't seem to find any information on. And now, the coronavirus/oil crash double whammy.
One thing I have heard people who are much smarter than me say is that one bad thing is an event. But two bad things is a crisis. If the market wasn't already feeling sick enough from coronavirus woes, the OPEC-Russia price war just gave us our second bad event.
All that uncertainty mutiplies. If people weren't sure about how bad the coronavirus would be (could infections be hundreds of thousands or hundreds of millions?), now they have to multiply any uncertain scenario with price war scenarios that have their own uncertainties.
Investors can still turn to potential fiscal and monetary policy solutions for answers. That can mitigate the damage but we also saw what kind of policy was needed to stem the rate of infection in China. That is its own bad medicine with unpleasant side effects. Policy can't magically cure a pandemic. Policy can't magically settle a price war.
Resolution to all this is unclear but, with markets almost in bear territory (-20%), one also has to wonder how far the selling can go. A typical recession might see a 30-40% market decline, so a good chunk of that scenario is priced in. Unless you think the current situation is going to be as bad or worse than the Financial Crisis. Then it could be more.
In conclusion, I have no idea. I have some thoughts I've just shared but, like I often say, the future is impossible to predict. No one saw this coming. Tomorrow, something else no one sees coming could happen (and not necessarily in a bad way either). Sometimes, after a certain point, all you can really do is sit back and watch history in the making.