Discover more from Endless Metrics
Writing about markets daily for 2.5 years now!
Beware! The Coronavirus Stock Market Narrative
Making stuff up
The stock market is interesting. You've got this super complicated collection of stocks representing shares of ownership in companies representing a broad spectrum of business sectors and then a huge diverse population of people, all of whom have their own perspectives based on innumerable unique factors, buying and selling those stocks at various prices that fluctuate drastically.
Because of this chaotic system of ridiculous complexity, I find it somewhat unbelievable then when simple narratives are crafted in an attempt to explain why the market is doing what it is doing on any given day, week, month, year, or longer.
The nCoV-2019 Wuhan Coronavirus is a great, recent, ongoing example of this simplistic storytelling. You've maybe seen headlines like "market drops as coronavirus fears grow" as if there is one factor that drives the market.
I did my own version of narrative crafting with a nice picture here: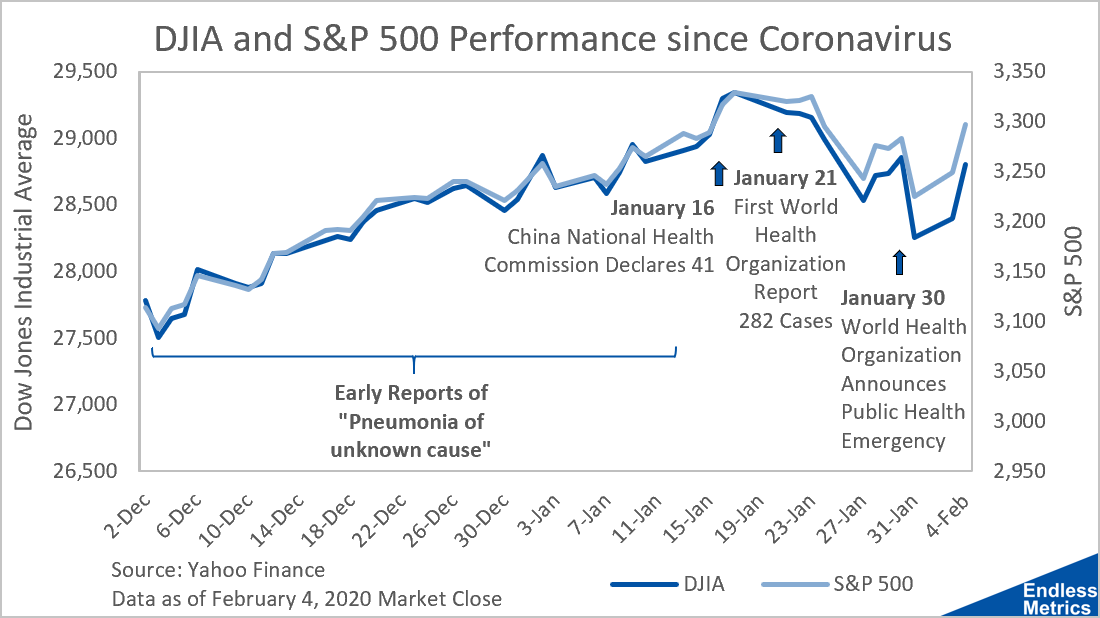 The market rallied through December and early January even as early indications from China warned of a yet-to-be-identified virus. When the severity of the outbreak came into focus, markets tumbled on fears that the outbreak could be more severe, dropping most acutely when the World Health Organization declared a public health emergency. Since the initial wave of bad news, markets have recovered slightly on hopes the virus spread will not be as impactful as first thought, as global containment measures have been enacted.
I mean, that sounds plausible enough. And, maybe there is some element of truth to that. But had the market done something else, I could've written a totally different story. 
What if someone handed me the chart and it was accidentally flipped upside down? Then I might say that markets steadily dropped through early December as rumors of an unidentifiable outbreak grew. Markets rallied in response to disciplined infection reporting and a declaration of a public health emergency, in hopes that global containment measures would be enacted. As the reporting has been increasingly dire, markets have reacted poorly with a steady sell off.
Writing a story and claiming there is one factor driving behavior is easy. You don't even need a real and complicated stock market. A random number generator works just as well. 
So, be careful out there in the narrative-driven world of financial commentary. Markets might just fall in fears of misattribution of unreliable storytelling. Or maybe they will rise in hopes it will improve? I don't know - I need a random line on a graph to decide.
---
Enjoy the article? If you haven't already, subscribe for free below and never miss a post. No spam. Cancel whenever!
---
Related content:
Forecasting Long-term Wuhan Coronavirus Cases
Five Useful Coronavirus Charts
Forecasting Long-term Wuhan Coronavirus (nCoV-2019) Mortality Rates