Forecasting COVID-19 Cases (Second Performance Update)
Checking in on the January 30 forecast
Back on January 30th, I created a long-term forecast for Wuhan Coronavirus (now COVID-19) infections. About a week later, I also did a follow up post to check in on the performance. Since it has been a while since then, I thought I would do another update to assess the situation and give my thoughts. Here is where things stand: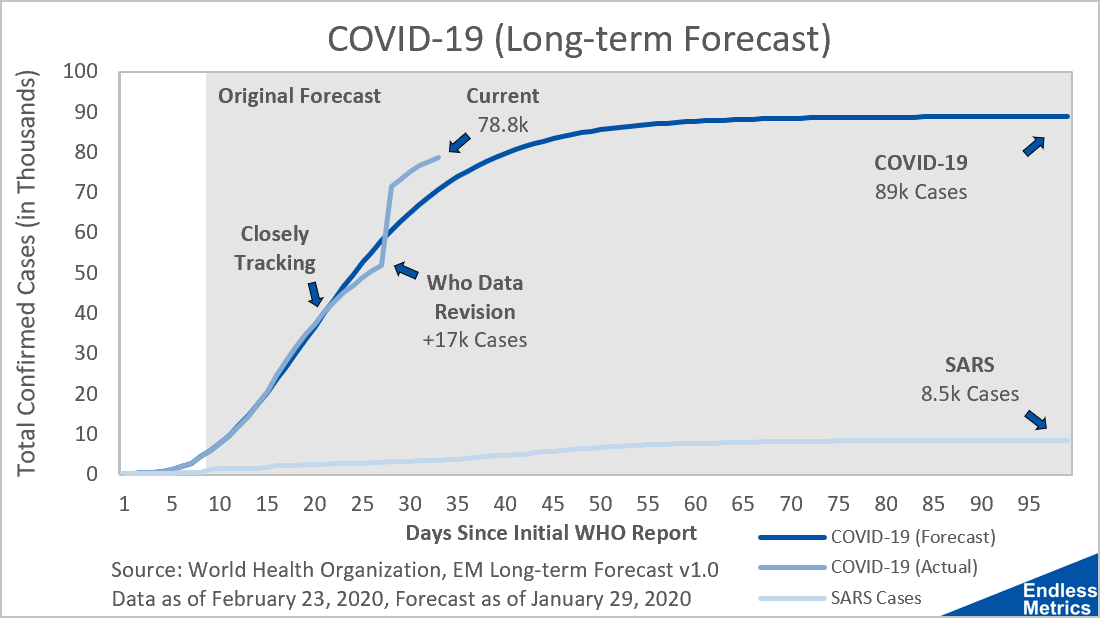 Real-world data is never as clean as a mathematical model. Although reported numbers were closely tracking the original forecast (and even falling below), the big jump in cases due to the inclusion of 17k previously unreported clinical diagnoses added a large spike to the data trend. Fortunately, that was a one-time event so far and reports since then have been tapering to some extent.
In my previous posts, I talked about a forecast as a benchmark and that the ultimate accuracy was not as important as having a basis for comparison as the situation unfolds. There is part of me that is proud to have an accurate prediction but, in all honesty, a lot of it was more luck than skill. Right now, I think that luck may be running out.
The last few days have been terrible from a preventative standpoint. Multiple countries have reported large jumps in cases and deaths. While newly reported cases from China have been tapering, the rest of the world looks to be ramping. It is now time for containment, as prevention, for many countries, has failed.
I expect to see a renewed acceleration of the daily reported new infections, as countries ramp up their testing. It seems likely then, that cases exceed our forecasted final count of 89k. This means we must reassess the potential for downside scenarios. Unfortunately, a pandemic is not off the table.
The situation warrants close monitoring. I'll continue to check in and give updates as material information comes in.
---
Enjoy the article? If you haven't already, subscribe for free below and never miss a post. No spam. Cancel whenever!
---
Related content:
Forecasting Long-term Wuhan Coronavirus Cases
Five Useful Coronavirus Charts
Forecasting Long-term Wuhan Coronavirus (nCoV-2019) Mortality Rates
Beware! The Coronavirus Stock Market Narrative
Forecasting Wuhan Coronavirus Cases (Performance Update)
Did we just see the inflection point of the Wuhan Coronavirus outbreak in Hubei?